Home
Welcome
Sales
Representatives
Service
Representatives
Quote

Line Impedance Stabilization Networks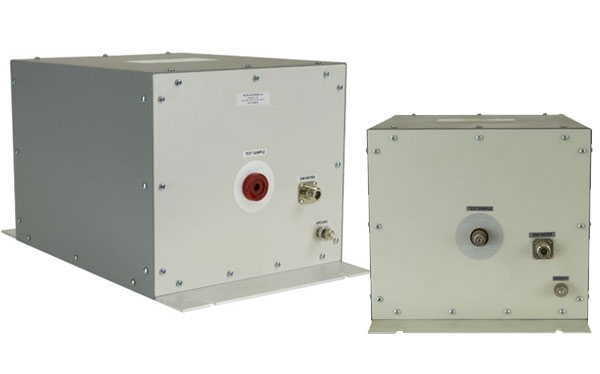 DESCRIPTION
The Solar Electronics LISNs use a series inductor between the test sample and the power source to provide the impedance-versus-frequency characteristic. A coaxial connector with DC isolation is provided for connection to the associated frequency selective EMI meter. The power source end of the inductor is bypassed to ground.
Due to the large current-carrying capability of some LISNs, it is not always practical to use a switch for changing inductance values. Instead, some models are equipped with a high current pin plug-and-jack combination for quickly connecting and disconnecting a network and substituting another. This nylon insulated pin plug-and-jack arrangement is a safety feature, well isolated from inadvertent short circuits, providing protection to operating personnel.
Current ratings up to 200 A are available in 50 µH styles and 500 A in 5 µH styles (see chart under Specifications tab).
EMI specifications require one LISN in each ungrounded power lead. Even though the neutral is considered "ground" if it is not connected to chassis inside the unit under test, the lead must be tested with an LISN. Therefore, use two LISNs in DC or single phase AC applications, three LISNs for delta-connected three phase circuits, and four LISNs for Y-connected three phase circuits.
Breakdown of Solar type numbers

8602

- 50

- TS

- 50

- N

RF connector:
BNC
=
Bayonet
Neill Concelman
N
=
Neill

Current rating in amperes (A)

Terminals:
BP
=
Binding Post
PJ
=
Plug and Jack
R
=
Receptacle
TS
=
Terminal Screw

Series inductance in microhenries (µH)
Part Number
Specifications
Ind.
µH
Coupling
Cap.
Current
Amps
Volts
DC
Volts
50-60 Hz
Line/GND
Volts 400 Hz
Volts 800 Hz
Freq.
Min.
Freq.
Max.
Circuit
Case
Size

FCC Part 18, MIL-STD-462 Notice 3, CISPR 25*

5 µH
0.10 µF
50
600
500
240
—
100 kHz
100 MHz
Single
1

FCC Part 18, DO-160G, DEF STAN 59-411 Part 3, CISPR 25*

5 µH
0.10 µF
25
600
500
240
125
1 kHz
1 GHz
Single
1

RTCA-DO-160G

5 µH
0.10 µF
500
1000
500
500
450
10 kHz
1 GHz
Single
1

MIL-STD-461D/E/F/G

50 µH
0.25 µF
25
400
270
135
—
10 kHz
100 MHz
Dual
7

MIL-STD-461D/E/F/G

50 µH
0.25 µF
50
1000
500
240
—
10 kHz
50 MHz
Single
3

MIL-STD-461D/E/F/G

50 µH
0.25 µF
25
400
270
135
—
10 kHz
50 MHz
Single
1

CISPR 25*

5 µH
0.10 µF
25
400
270
135
—
100 kHz
100 MHz
Single
1

CISPR 25*

5 µH
0.10 µF
25
400
270
135
—
100 kHz
100 MHz
Single
1

CISPR 25*

5 µH
0.10 µF
200
400
270
250
—
100 kHz
200 MHz
Single
3†

MIL-STD-462 Notice 3, FCC Part 18, DO-160G, CISPR 25*

5 µH
0.10 µF
100
600
500
240
—
10 kHz
400 MHz
Single
3
Part Number
Specifications
Ind.
µH
Coupling
Cap.
Current
Amps
Volts
DC
Volts
50-60 Hz
Line/GND
Volts 400 Hz
Volts 800 Hz
Freq.
Min.
Freq.
Max.
Circuit
Case
Size

DO-160G

5 µH
0.10 µF
500
1000
600
480
240
10 kHz
1 GHz
Single
4

FCC Part 15

50 µH
0.10 µF
25
200
135
75
—
10 kHz
50 MHz
Dual
1

MIL-STD-461D/E/F/G

50 µH
0.25 µF
25
400
270
135
—
10 kHz
50 MHz
Single
1

MIL-STD-461D/E/F/G

50 µH
0.25 µF
100
400
270
135
—
10 kHz
30 MHz
Single
3†

MIL-STD-461D/E/F/G

50 µH
0.25 µF
100
400
270
135
—
10 kHz
30 MHz
Single
3†

MIL-STD-462 Notice 3, FCC Part 18, DO-160C

5 µH
0.10 µF
100
600
500
480
—
150 kHz
65 MHz
Single
3

MIL-STD-461D/E/F/G

50 µH
0.25 µF
100
600
500
240
—
10 kHz
30 MHz
Single
3†

MIL-STD-461D/E/F/G

50 µH
0.25 µF
100
600
500
240
—
10 kHz
30 MHz
Single
3†
Part Number
Specifications
Ind.
µH
Coupling
Cap.
Current
Amps
Volts
DC
Volts
50-60 Hz
Line/GND
Volts 400 Hz
Volts 800 Hz
Freq.
Min.
Freq.
Max.
Circuit
Case
Size

MIL-STD-462 Notice 3, FCC Part 18, DO-160C

5 µH
0.10 µF
200
400
270
135
—
150 kHz
65 MHz
Single
3†

MIL-STD-462 Notice 3, FCC Part 18, DO-160C

5 µH
0.10 µF
200
400
270
135
—
150 kHz
65 MHz
Single
3†

MIL-STD-461D/E/F/G, ANSI C63.4 (2003)

50 µH
0.25 µF
200
400
270
135
—
10 kHz
30 MHz
Single
3†

MIL-STD-461D/E/F/G, ANSI C63.4 (2003)

50 µH
0.25 µF
200
400
270
135
—
10 kHz
30 MHz
Single
3†

FCC Part 18, DO-160G, DEF STAN 59-411 Part 3

5 µH
0.10 µF
500
700
500
240
—
1 kHz
1 GHz
Single
4

MIL-STD-461D/E/F/G

50 µH
0.25 µF
50
400
270
135
—
10 kHz
200 MHz
Single
3

MIL-STD-462 Notice 3, FCC Part 18, DO-160G, DEF STAN 59-411 Part 3, CISPR 25*

5 µH
0.10 µF
50
600
500
240
115
1 kHz
1 GHz
Single
1

MIL-STD-462 Notice 3, FCC Part 18, DO-160G, DEF STAN 59-411 Part 3, CISPR 25*

5 µH
0.10 µF
50
600
500
240
115
1 kHz
1 GHz
Single
1

MIL-STD-461D/E/F/G

50 µH
0.25 µF
50
400
270
135
—
10 kHz
50 MHz
Single
3
Part Number
Specifications
Ind.
µH
Coupling
Cap.
Current
Amps
Volts
DC
Volts
50-60 Hz
Line/GND
Volts 400 Hz
Volts 800 Hz
Freq.
Min.
Freq.
Max.
Circuit
Case
Size

MIL-STD-461D/E/F/G

50 µH
0.25 µF
50
400
270
135
—
10 kHz
50 MHz
Single
3

FCC Part 15, CISPR 16-1, ANSI C63.4 (1992)

50 µH
0.10 µF
50
800
500
240
—
10 kHz
50 MHz
Single
3

MIL-STD-461D/E/F/G

50 µH
0.25 µF
25
400
270
135
—
10 kHz
50 MHz
Dual
7

MIL-STD-461D/E/F/G

50 µH
0.25 µF
200
800
500
240
—
10 kHz
30 MHz
Single
3†

MIL-STD-461D/E/F/G

50 µH
0.25 µF
200
800
500
240
—
10 kHz
50 MHz
Single
3†

CISPR 16-1-2 Ed. 1.2

50 µH
0.25 µF
25
400
270
135
—
9 kHz
30 MHz
Dual
7

MIL-STD-461D/E/F/G

50 µH
0.25 µF
25
600
500
270
—
10 kHz
30 MHz
Dual
7

CISPR 16-1-2 Ed. 1.2

50 µH
0.25 µF
25
700
500
270
—
9 kHz
30 MHz
Dual
7

MIL-STD-461D/E/F/G

50 µH
0.25 µF
25
400
270
135
—
10 kHz
50 MHz
Single
1

MIL-STD-461D/E/F/G

50 µH
0.25 µF
25
400
270
135
—
10 kHz
50 MHz
Single
1
Part Number
Specifications
Ind.
µH
Coupling
Cap.
Current
Amps
Volts
DC
Volts
50-60 Hz
Line/GND
Volts 400 Hz
Volts 800 Hz
Freq.
Min.
Freq.
Max.
Circuit
Case
Size

MIL-STD-461D/E/F/G

50 µH
0.25 µF
25
800
500
240
—
10 kHz
30 MHz
Single
1

MIL-STD-461D/E/F/G

50 µH
0.25 µF
25
800
500
240
—
10 kHz
30 MHz
Single
1

MIL-STD-461D/E/F/G

50 µH
0.25 µF
25
400
270
135
—
10 kHz
50 MHz
Dual
7

DO-160G, DEF STAN 59-411 Part 3

5 µH
0.10 µF
50
400
270
135
—
1 kHz
1 GHz
Single
1

ISO 7637-2 (circuit isolated from case)

5 µH
0.10 µF
100
600
500
480
—
100 kHz
100 MHz
Single
3

CISPR 16-1-2 Ed. 1.2

50 µH
0.10 µF
25
400
270
135
—
150 kHz
30 MHz
Single
1

CISPR 16-1-2 Ed. 1.2

50 µH
0.10 µF
50
400
270
135
135
150 kHz
30 MHz
Single
3

CISPR 16-1-2 Ed. 1.2

50 µH
0.10 µF
100
800
500
240
—
150 kHz
30 MHz
Single
3†

MIL-STD-461D/E/F/G

50 µH
0.25 µF
100
1000
600
270
—
10 kHz
30 MHz
Single
3†

DO-160G, DEF STAN 59-411 Part 3

5 µH
0.10 µF
250
400
270
135
—
1 kHz
400 MHz
Single
3†

CISPR 16-1-2 Ed. 1.2

50 µH
0.10 µF
25
400
270
135
—
150 kHz
30 MHz
Dual
7

CISPR 25*

5 µH
0.10 µF
50
600
500
240
—
100 kHz
100 MHz
Single
3

CISPR 16-1-2 Ed. 1.2

50 µH
0.25 µF
50
400
270
135
—
9 kHz
30 MHz
Single
4
5 µH
0.10 µF
500
700
500
240
—
100 kHz
500 MHz
Single
4

MIL-STD-461F/G
(alt. 5 μH LISN, Appendix A:CE101 & CE102)

5 µH
0.1 µF
50
800
500
300
135
150 kHz
100 MHz
Single
1

MIL-STD-461F/G
(alt. 5 μH LISN, Appendix A:CE101 & CE102)

5 µH
0.1 µF
50
800
500
300
135
150 kHz
100 MHz
Single
1

CISPR 25 (2016)

5 µH
0.10 µF
500
1200
500
500
500
100 kHz
500 MHz
Single
4

FCC Part 15, CISPR 16-1, ANSI C63.4 (1992)

50 µH
0.10 µF
100
1000
500
500
450
10 kHz
50 MHz
Single
3†

* CISPR 25 replaces DIN 57879-3
Case sizes (w x h x l)
1: 5.26" x 5.29" x 10.00" (13.36 cm x 13.44 cm x 25.40 cm). Overall length with base plate: 12.00" (30.48 cm).
2: 7.00" x 7.00" x 8.25" (17.78 cm x 17.78 cm x 20.96 cm).
3: 10.29" x 9.25" x 13.00" (26.14 cm x 23.50 cm x 33.02 cm). Overall length with base plate: 17.00" (43.18 cm)
3†: Equipped with 6.50" (16.51 cm) 50-60 Hz ventilating fan. Specify voltage: 110V/115V or 220V/230V.
Overall length with base plate and fan overhang: 21.50" (54.61 cm).
4: 10.29" x 9.25" x 20.00" (26.14 cm x 23.50 cm x 50.80 cm). Overall length with base plate: 23.75" (60.33 cm).
5: 3.12" x 1.75" x 3.87" (7.93 cm x 4.45 cm x 9.83 cm).
6: 2.75" x 2.45" x 5.70" (6.99 cm x 6.22 cm x 14.48 cm).
7: 13.48" x 7.25" x 13.25" (34.24 cm x 18.42 cm x 33.66 cm). Overall length with base plate: 17.25" (43.82 cm).
‡ Data sheets are best viewed in Adobe Acrobat Reader
Case size comparison
of models currently
in production