Home
Welcome
Sales
Representatives
Service
Representatives
Quote

Model 2854-2 Spike Generator
for MIL-STD-461F CS106 conducted transient susceptibility test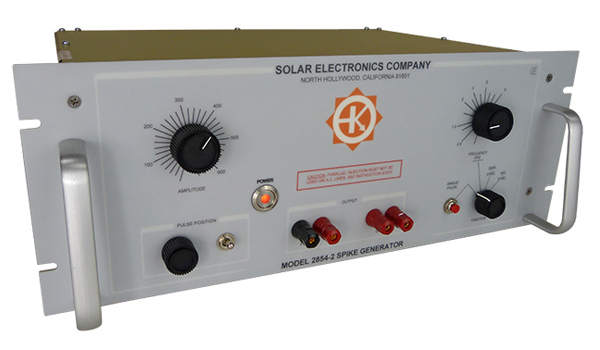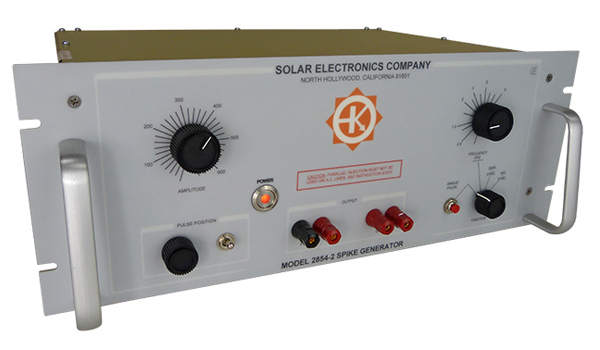 SOLAR SPIKE GENERATOR UPDATE
Effective April 2017, we are assigning a new part number to our Solar Model 2854 spike generator and will no longer be manufacturing the Solar Model 2854-1.

We are now offering the Solar Model 2854-2 Spike Generator to continue assisting your testing to MIL-STD-461F CS106.

In short, the specifications, functionality and performance of this updated generator are exactly the same.

Why the change? Solar Electronics Company designed and has been manufacturing our Model 2854-1 since 2008.

Over the years, parts have become harder to find or even obsolete. To continue to provide this quality EMC generator, we redesigned the internal circuitry and updated components. This redesign prompted the part number change and will result in improved reliability, ease of service and better availability of parts.

What hasn't changed: There will be no discernible difference to you, the end user. This generator meets the same specification with the same performance you have trusted for so many years.

APPLICATION
The Solar Model 2854-2 Spike Generator is designed for screen room use in making conducted transient susceptibility tests as specified in MIL-STD-461F, Test Method CS106.
DESCRIPTION
The Model 2854-2 provides 5 μS ±22% pulse with a 1.5 μS ± 0.5 μS rise time across a 5.0 Ω non-inductive resistor. Voltage is adjustable to greater than 400 V. The undershoot is limited to less than 120 V peak (maximum) and less than 20 μS. The repetition rate is variable and can be adjusted from 0.8 pulse per second to 10 pulse per second. Single transients can be applied with the pushbutton on the front panel.
Two sets of output terminals allow either parallel or series injection into the power line. The series injection may be used on DC and AC lines. Parallel injection should be used on DC lines only. The output winding used for series injection can carry 25 A of power current. The output terminals are isolated from the chassis and the power cord.
FEATURES
•
Provides output levels from 10 V to more than 400 V into 5 Ω
•
Adjustable pulse position on AC lines relates the transient susceptibility to real
time aspects of digital systems
•
Single pulse feature for controlled isolation of transient effects
•
Output terminals for series and parallel injection
•
Standard rack panel construction: 19" wide x 7" high x 12.75" deep (48.26 cm x 17.78 cm x 32.38 cm)
Spike amplitude: Continuously adjustable from 10 V to over 400 V peak
Repetition rate: Continuously adjustable from 0.8 to 10 pulse per second
Rise time: 1.5 ± 0.5 µS into 5 Ω
Spike duration: Output falls to zero in 5 µS ± 22%.
Spike shape: Ringing characteristic as shown in Figure CS106-1 in MIL-STD-461F
Phase adjustment: Pulse position adjustable from 0° to 360° periodically on 50, 60 or 400 Hz sine wave
Internal impedance: Less than 2.0 Ω
Power requirements: 115 V 60 Hz, 1.6 A (230 V, 50 Hz, 0.8 A available)
Dimensions, standard rack panel: 19" wide x 7" high x 12.75" deep (48.26 cm x 17.78 cm x 32.38 cm)
Weight: 28 pounds (12.7 kg)
Boxed weight (approx.): 36 pounds (16.33 kg)

ACCESSORIES RECOMMENDED FOR CS106 TESTING
Solar Type 8525-1 5 Ω Non-Inductive Load
Solar Type 7032-1 Power Line Isolation Transformer