Model 9355-1 Pulse Generator
for MIL-STD-461-D/E CS115 susceptibility test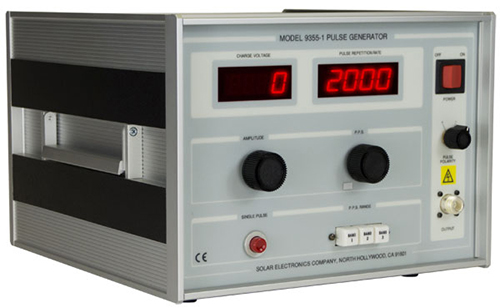 | | | |
| --- | --- | --- |
| | | |
APPLICATION
The Solar Model 9355-1 Pulse Generator is designed to provide impulse excitation by means of an injection probe placed around interconnecting cables or power wires. The unit uses a charged transmission line (50 Ω) to generate a pulse with less than 2 nS rise and fall time, and duration of approximately 30 nS, calibrated in a 50 Ω fixture to deliver up to 5 A at a rate of 30 pulse per second for one minute as required by MIL-STD-461D/E/F, Test Method CS115.
DESCRIPTION
The charged line potential of the Model 9355-1 is adjustable from less than 2 V to approximately 2000 V. The repetition rate is variable from less than 0.6 pulse per second to greater than 150 pulse per second, or single pulses manually triggered by a panel mounted pushbutton. Digital displays monitor the charging voltage and pulse repetition rate.
FEATURES
•

Panel mounted digital meters monitor the adjustable charged line voltage and pulse repetition rate

•

Adjustable pulse rate from 0.6 pulse per second to 150 pulse per second, and manual triggering via front panel pushbutton

•

Charged line output voltage adjustable from 1.0 V to ≈2000 V

OUTPUT PULSE
Charging voltage: Adjustable from 0 to ≈2000 V
Rise/fall time: <2 ns
Duration time: 35 ns
Pulse repetition rate: 0.6 pulse per second to 150 pulse per second
Polarity: ± selectable
Output load: 50 ± j 0 Ω
Dimensions: 12.25" wide x 8.7" high x 13" deep (31.1 cm x 21.1 cm x 33.0 cm)
Weight: 27 pounds (12.24 kg)
Shipping weight: 30 pounds (13.60 kg)

ACCESSORIES RECOMMENDED FOR CS115 TESTING
Solar Type 9233-50-TS-50-N Line Impedance Stabilization Network
Solar Type 9125-1 Calibration Fixture
Used to calibrate probes with a window size from 1.25" to 1.50" and a frequency range of 20 Hz to 500 MHz
Solar Type 9142-1N Current Injection Probe
with a frequency range of 2 MHz to 500 MHz, 200 W
Solar Type 9123-1N Current Monitor Probe
with a frequency range of 10 kHz to 500 MHz, 1.25" window
Solar Type 9410-1 High Voltage 40 dB Attenuator
The Type 9410-1 high voltage 50 ohm attenuator has an insertion loss from dc to ± 1.5 dB and 40 dB ± 3 dB from 100 MHz to 1 GHz dc to 100 MHz of 40 dB,  and an average wattage dissipation capability of 2 watts. The attenuator will reduce the pulse voltage (a result of 6 amperes flowing through 50 ohms = 300 V max.) from exceeding most oscilloscope limitations. (See your oscilloscope manual for more details on 50 ohm input).
Solar Type 9841-1 1000 V Termination
50 Ω coaxial 1 W average power. Typical input VSWR in a 50 Ω system under 1.5 from DC to 1 GHz